OSHA Forklift Training and Certification
Published by Timothy G. Wiemer
on
During the course of the day it isn't uncommon to receive numerous calls from businesses looking for information on OSHA forklift training & certification. The questions range from general in nature for example, do you offer OSHA forklift training at your place of business to specific questions on hiring someone that has been trained at another company. While it is not possible to answers to all questions in one article I will try to touch on a few of the most common questions and provide detailed answers.
What is OSHA Forklift Training / Certification?
This is a commonly asked question. I am very careful when I answer this question. As a result, I want the caller to be aware that OSHA does not provide a specific training program. As you can imagine, it would be very difficult to provide all training content for all industries. Image the possible differences, all things being equal,  in material flow between two companies producing the same product, in the same industry, in different parts of the country. 
However, they do specify what the training should contain. The following excerpt is taken from OHSA's website: 
Training shall consist of a combination of formal instruction (e.g., lecture, discussion, interactive computer learning, video tape, written material), practical training (demonstrations performed by the trainer and practical exercises performed by the trainee), and evaluation of the operator's performance in the workplace. [29 CFR 1910.178(l)(2)(ii)]
Do You Provide OSHA Forklift Training / Certification?
The training we provide follows the recommended topics listed in 1910.178(l) . Many times our training includes company specific discussion as it relates to those attending the class. We obtain the key talking points from our conversation with our client, addressing their needs, prior to the training. In our forklift training classes we encourage discussion, we connect the topics discussed to how they relate to their daily tasks.
After the formal instruction and classroom testing we move on to the practical training and evaluation. It goes without saying, that these last two sections of the forklift training class are extremely important. This is where the "technical" portion of the training is connected to the "hands on" portion.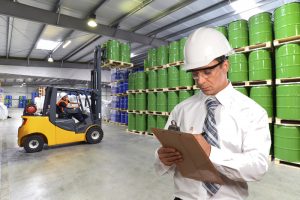 Obviously, it is important to successfully complete the classroom portion of the training. Comparatively, it is equally important to incorporate the information learned be able to put it into practice. Accordingly, the operators are expected to bring all the components together into a complete package. For those that can not bring everything together do not pass.
For those that do not pass, it may mean going through the complete class again. If they passed the classroom portion, it may mean practicing with the equipment in a safe area with someone that has the experience and knowledge. Its important to point out, after successfully passing the first two sections they would also need to successfully complete the hands on evaluation in order to pass.
Are We In Compliance With Just Showing A Forklift Training Video?
As covered in the previous section OSHA states that training shall consist of a combination of formal instruction. So the short answer to this question would be no. Requirements would be met if your training included the video, along with discussion, testing, practical training  and then hands on evaluation.
Do We Need To Provide Training For Each Make & Model We Have On-Site
While is is not necessary to train on each make and model you would need to train on each class of truck Class I Forklifts (sit down electric), Class II Forklifts (narrow aisle, reach truck or order picker), Class III Forklifts (pallet), Class IV Forklifts (sit down cushion tire), Class V Forklifts (sit down pneumatic tire), Class VII Forklifts (rough terrain).
1910.178(l)(3) requires that operators receive training in the topics which are applicable to the safe operation of the truck in the employer's workplace. For example, if an employee will operating  2 different Class I forklifts and 1 has a side shift and the other one does not, then the proper operation of a side shift should be added to their training. Also, if attachments are going to be used then additional specialized training needs to be added to the training.
Are Operators Required To Carry a OSHA Forklift Driver's License On Their Person At All Times?
OSHA does not require a forklift "driver's license" (wallet card) to be carried by each operator.  While companies can require that all operators have it on their person at all times, it is not required by OSHA. Some companies use the wallet cards as a means to check for compliance of their employees. As you can imagine, it can be extremely useful when companies set restrictions on who can operate which piece/type of equipment. It is very easy to ask an employee for their card and check their forklift credentials.
In the event, that that you choose to use a wallet card, the following information should be included:
Full name of the operator

Name of the trainer

Date of the training

Name of evaluator

Date of evaluation

Class of truck trained/certified to operate
Even if you use wallet cards, I recommend keeping a complete record for each operator in a central location. Namely the information should include much of the same information as the wallet card. In essence, you should have the full name of the operator, name of the trainer, date of the training, name of evaluator, date of evaluation, and class of truck trained/certified to operate. In addition, I would have a copy of the class attendance sheet, exam, and the evaluation form. That way if OSHA does ask for proof, it would be pretty simple to provide the requested information.
Do I Need To Send My Operators Through The Complete Training When Their Certifications Expire?
First of all, for those operators with expired certification OSHA does not require that they go back through the same forklift training as they did when they were initially certified. They could receive only an evaluation, much like they received in their initial training. Again, you would want to include an evaluation for each class of truck and/or attachment they use. However, they would need to go through forklift refresher/retraining if  any of the following conditions occur:
The operator has been observed to operate the vehicle in an unsafe manner [1910.178(l)(4)(ii)(A)]

The operator has been involved in an accident or near-miss incident [1910.178(l)(4)(ii)(B)]

The operator has received an evaluation that reveals that the operator is not operating the truck safely [1910.178(l)(4)(ii)(C)]

The operator is assigned to drive a different type of truck [1910.178(l)(4)(ii)(D)]

A condition in the workplace changes in a manner that could affect safe operation of the truck [1910.178(l)(4)(ii)(E)]
Are Operators Of Class III Forklifts (electric pallet) Required To Follow The Same OSHA Forklift Training As With All Other Classes Of Forklifts?
As has been noted, OSHA's  CFR standard 1910.178 applies to all classifications of powered industrial trucks (PIT). This includes: Class I Forklifts (sit down electric), Class II Forklifts (narrow aisle, reach truck or order picker), Class III Forklifts (pallet), Class IV Forklifts (sit down cushion tire), Class V Forklifts (sit down pneumatic tire), Class VII Forklifts (rough terrain). 
If you have forklift training or aerial lift training questions, are interested in learning more about the services/products offered at First Quality Forklift Training LLC, or would like a free training quote, please call us at (800) 647-FQFT (3738) or email us at [email protected] . We look forward to hearing from you.