Forklift Wireless Camera System  7″ LCD Monitor
Are your customers complaining about broken or damaged shipping pallets? Are you worried about your forklift operators inadvertently damaging the products you are responsible for warehousing and shipping? What about an accident involving your other warehouse staff or other pedestrians? These are very real concerns for warehouse managers and supervisors. The easiest way to improve the quality and safety of the forklifts in your warehouse is by improving driver visibility. The best way to do this is with a 7″ Forklift Wireless Camera System.
Having a Forklift Wireless Camera System installed on your forklifts is by no means a fail-safe solution nor a replacement for a conscientious forklift operator. Your drivers still need to be constantly performing 360 degree checks and aware of what's happening in front, behind, and on both sides of their vehicles.
Wireless Convenience 
Our Forklift Wireless Camera System is an incredibly useful tool in that it allows your drivers to more easily see with a mere glance many of the different problem areas and "blind spots" around the forklift. This includes the most problematic area that's directly behind the forklift where the majority of accidents occur. With this 7 inch LCD and Camera System, you prevent accidents with other workers, as well as damage to property, products, and other heavy machinery. Simply put, this wireless camera system not only makes your warehouse a lot safer, it also makes it much more profitable since you'll have a significant reduction in accidental property and product damage.
The wireless aspect of this camera system makes it easy to install both the display screen and the camera exactly where you want them to go. The camera can be mounted on the front, back, or sides, basically anywhere visibility is a safety concern (can sync up to 4 cameras with display) . What's more, the camera can be rotated 90 degrees.
Easy Installation
The installation process is easy and can be done with the most common warehouse tools. What's more, there is an optional magnetic mounting bracket for the battery.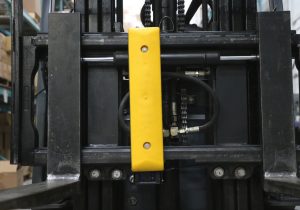 An impact bumper is available (for class 2 carriages) that comes with a camera and battery mounting bracket. Attaching the camera makes easy work of placing the camera at fork level. Viewing at fork level this can help the forklift operator towards properly aligning the fork tines into the pockets of the pallets
Camera Features
The camera itself has an extremely wide-angle lens (120 degree viewing angle) allowing it to capture the greatest area of space, no matter where on the vehicle it's mounted. This viewing angle is nearly three times as wide as the 45 degree angle that is needed to span the width of an entire warehouse aisle. The camera also rotates at a full 90 degree angle.
The camera's equipped with state-of-the-art Night Vision technology meaning that it works exceptionally well in poorly lit areas of the warehouse. The impact resistant housing is made from water-resistant materials so this camera keeps on capturing clear footage even in the roughest working conditions. The entire system is also rated for temperatures as cold as –4 Fahrenheit (and as high as the impossibly hot 155 degrees Fahrenheit).
7 Inch LCD Display
The 7-Inch Liquid Crystal Display renders the signal from the camera in exceptionally high-quality without any delay. The built-in transmitters in both this LCD display screen and the camera ensure that there is perfect pairing without any unwanted interference from other wireless devices. In fact, the screen and camera communicate at a distance of up to 100 feet. This is essential when dealing with high racking. This system is designed to work flawlessly in the presence of scanners, security cameras, phones, and computers.
An SD card can be used to simultaneously record the feed from up to 4 different cameras, making it easy for supervisors to monitor new drivers and gather information for disciplinary and/or training purposes.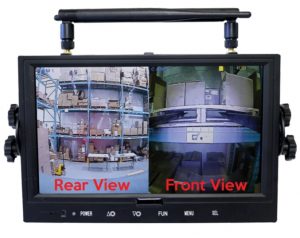 Simply put, the 7 Inch LCD Forklift Wireless Camera System is the best bet for warehouse administrators and supervisors who are looking for an efficient and effective means by which they can prevent damage and reduce their liabilities. No warehouse manager wants to have to deal with damaged goods or property, much less the absolute horror that is inevitably associated with a workplace accident involving employees or visitors.
The 7″ Forklift Wireless Camera System includes:
The LCD Display

Rechargeable Battery Pack

Wireless Camera
Features And Benefits: 
7" LCD Monitor with 120 degree view angle camera

Exceptionally clear picture

Digital wireless system with built-in transmitters in the camera and display

Automatic pairing capability with no interference from any other cameras

Night Vision technology so you can see clearly in low light or dark conditions

Recording capability with the use of an SD card 7"  display

Accommodates up to 4 cameras

Built with water and impact resistant housing

Can be mounted anywhere on the forklift

Easy Installation and operation

Camera view can be rotated in 90 degree intervals on each monitor
Specifications:
LCD Monitor Size: 7" 

Power Supply: 12 – 48V

Power Consumption: Maximum 6W

Transmitting Distance: Approximately 100 Feet

Operating Temperature: -4 F to 155 F RH 90%

Warranty: 1 Year
Questions – To find out more about this 7″ Forklift Wireless Camera System please get in touch with us today.
***The installation of a camera system is an added safety measure and should not be a replacement for your operators being aware of what is happening 360° around them which includes looking over their shoulders***